Charley Barnes was born in Nottingham in 1889, the son of William and Mary Barnes. The family moved to 18 Minster Moorgate in Beverley in 1897. William was working as a foreman baker and confectioner.
In the 1911 census the family have moved to 84 Minster Moorgate and Charley is working as cycle repairer. On the 1st June 1914 he married Clarice Eugenia Hyde of Ellerker in St Anne's Church and the couple moved to 2 Sloe Lane, Beverley.
On 20th December 1915 Charley joined the 1st Battalion of the East Yorkshire Regiment at the age of 27 (Service no. 23836). Charley now had two children, a daughter Winifred Mary and a son, Charles Robert. He was sent to France to join his battalion.
The 1st Battalion East Yorkshires were in France and in April 1917 were part of the British force attacking Arras. The East Yorkshires were attacking on a line to the south of Vimy Ridge in what was known as the First Battle of the Scarpe. The attack was deemed to be successful but there were heavy casualties and sadly Charley Barnes was killed. He is buried in Row B Grave 9 in the Cojeul British Cemetery at St Martin-Sur-Cojeul, South East of Arras.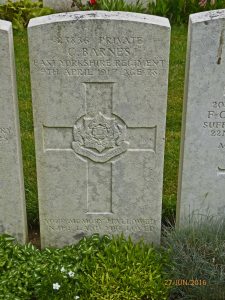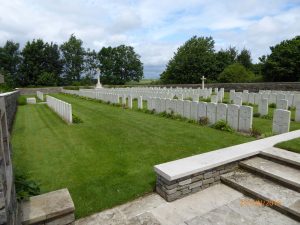 Clarice Barnes is buried in St Anne's churchyard along with her son and the headstone carries a mention of her husband Charley (Plot F Grave L10)
<click on photo for a full screen image>