THE EAST RIDING OF YORKSHIRE COUNCIL
ROAD TRAFFIC REGULATION ACT 1984 SECTION 14 (2)
TEMPORARY PROHIBITION OF THROUGH TRAFFIC
Ellerker Lane, Stonepit Lane and Norfolk Bank Lane junction, South Cave
Notice is hereby given that The East Riding of Yorkshire Council gives notice that no person shall proceed over the junction of Ellerker Lane, Stonepit Lane and Norfolk Bank Lane South Cave commencing 15th April 2019 to allow carriageway repair works to take place across this junction.
The road closure is necessary to enable the works to be carried out in a manner consistent with
ensuring the safety of the public. The Order is valid for 21 days, but it is anticipated that the works will be completed within 1 day.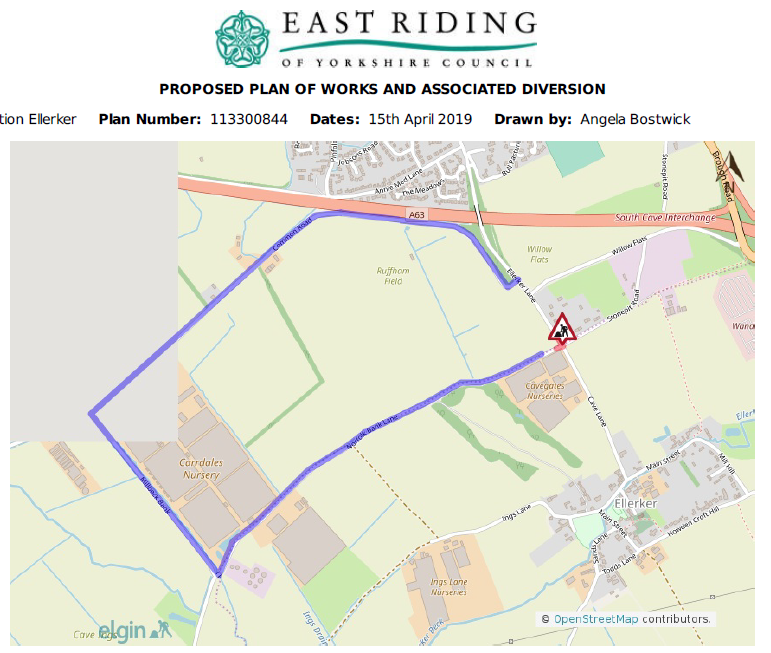 The alternative route for traffic affected by the road closure will be via:
For vehicles approaching from the North, East and West of the closure area:
Norfolk Bank Lane, Millbeck Bank, Common Road, Ellerker and visa versa.
Vehicles from Ellerker village:
Ring Beck Lane, Brough Road Ellerker, Brough Road South Cave, Willow Flats and vice versa
The diversion route will be signed at the time of closure. The road will be closed to all traffic for the duration of the works.
Further information can be obtained from Highways Customer Care 01482 393939
Dated this 9th April 2019.